Oil level sight glass,liquid Sight Glass,Oil level indicator,Oil Sight Gauge,oil sight windows,Visual level sight glass,Visual level indicator,Visual level sight gauge,domed shape sight glass

Material:

Body: Aluminum,Steel,plastic and Brass

O-Ring: Viton,NBR, and Copper

Glass Thickness: 2mm to 5 mm

Reflectors: Stainless Steel 304 Reflector

Any type you can chose with reflector or without Reflector, You also can add float ball.

Glass Type: Natural Glass,Tempered Glass and Borosilicate Glass

Resist Tempreature Range:-30' to 120'

Pressure Range: 5-10 Bar or 0.5MPa to 1 MPa.

Thread type:NPT,NPTF,UNC,UNF,Metric and BSP(G thread)


Size: Below you will get the size you wanted.
Another size is okay.OEM are welcome.

Usage: Pump,Oil Receivers,Gearboxes,Speed Reducer,Compressor and Power Transimission.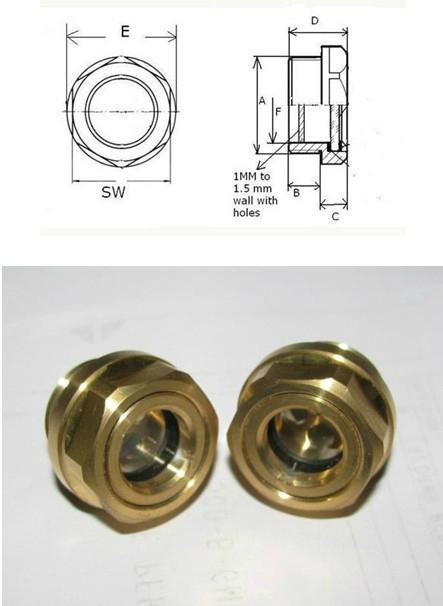 Metric & BSP Thread Brass Oil Sight Glass
Brass Oil Sight Glass
Item No.
Size
A(mm)
B(mm)
C(mm)
D(mm)
E(mm)
F(mm)
SW(mm)
Max MPa/Temperateru
GM-BM10
M10
M10x1
7
7
14
15
5
13
2MPa / Below Zero 30 to 120 Centigrade
GM-BM16
M16
M16x1.5
7.5
7
14.5
22
10
19
GM-BM22
M20
M20x1.5
8
7
15
26
14
23
GM-BM22
M22
M22x1.5
8
8
16
28
15
24
GM-BM26
M26
M26x1.5
9
9
18
31
20
26
GM-BM27
M27
M27x1.5
9
9
18
32
20
26
GM-BM30
M30
M30x1.5
10
9
19
37
22
33
GM-BM33
M33
M33x1.5
11
9
20
40
24
36
 
GM-BG38
3/8"
G 3/8"
7.5
7
14.5
22
10
19
GM-BG12
1/2"
G 1/2"
8
7
15
26
14
23
GM-BG34
3/4"
G 3/4"
9
9
18
32
20
26
GM-BG10
1"
G 1"
11
9
20
40
24
36
Metric & BSP Aluminum Oil Sight Glass
Aluminum Oil Sight Glass
Item No.
Size
A(mm)
B(mm)
C(mm)
D(mm)
E(mm)
F(mm)
SW(mm)
Max MPa/Temperateru
GM-AM10
M10
M10x1
7
7
14
15
5
13
5MPa / Below Zero 30 to 120 Centigrade
GM-AM16
M16
M16x1.5
7.5
7
14.5
22
10
19
GM-AM22
M20
M20x1.5
8
7
15
26
14
23
GM-AM22
M22
M22x1.5
8
8
16
28
15
24
GM-AM26
M26
M26x1.5
9
9
18
31
20
26
GM-AM27
M27
M27x1.5
9
9
18
32
20
26
GM-AM30
M30
M30x1.5
10
9
19
37
22
33
GM-AM33
M33
M33x1.5
11
9
20
40
24
36
 
GM-AG38
3/8"
G 3/8"
7.5
7
14.5
22
10
19
GM-AG12
1/2"
G 1/2"
8
7
15
26
14
23
GM-AG34
3/4"
G 3/4"
9
9
18
32
20
26
GM-AG10
1"
G 1"
11
9
20
40
24
36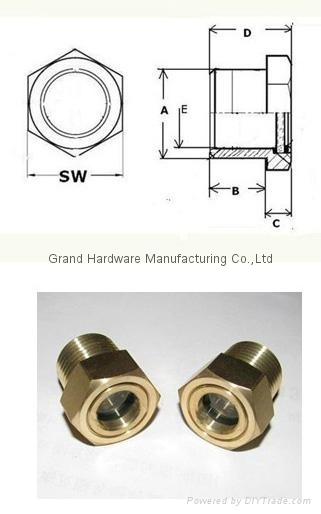 Metic & BSP Thread Brass Sight Glass
Hexagon Brass Sight glass
Item No.
Size
A(mm)
B(mm)
C(mm)
D(mm)
E(mm)
SW(mm)
Max Mpa
Temperature
GM-BHM10
M10
M10x1
7
7
14
5
14
2MPa
Below Zero 30 to 120 Centigrade
GM-BHM16
M16
M16x1.5
7
7
14
10
22
GM-BHM20
M20
M20x1.5
8
7
15
16
26
GM-BHM22
M22
M22x1.5
8
7
15
17
28
GM-BHM26
M26
M26x1.5
9
8
17
20
33
GM-BHM27
M27
M27x1.5
9
8
17
20
33
GM-BHM30
M30
M30x1.5
10
9
19
23
36
GM-BHM33
M33
M33x1.5
12
10
22
25
40
 
GM-BHG38
3/8"
G 3/8"
7
7
14
10
22
GM-BHG12
1/2"
G 1/2"
8
7
15
16
26
GM-BHG34
3/4"
G 3/4"
9
8
17
20
33
GM-BHG10
1"
G 1"
12
10
22
25
40
Hexagon Steel Oil Sight Glass
Hexagon Steel Oil Sight Glass
Item No.
Size
A(mm)
B(mm)
C(mm)
D(mm)
E(mm)
SW(mm)
Max Mpa
Temperature
GM-BHM10
M10
M10x1
7
7
14
5
14
2MPa
Below Zero 30 to 120 Centigrade
GM-BHM16
M16
M16x1.5
7
7
14
10
22
GM-BHM20
M20
M20x1.5
8
7
15
16
26
GM-BHM22
M22
M22x1.5
8
7
15
17
28
GM-BHM26
M26
M26x1.5
9
8
17
20
33
GM-BHM27
M27
M27x1.5
9
8
17
20
33
GM-BHM30
M30
M30x1.5
10
9
19
23
36
GM-BHM33
M33
M33x1.5
12
10
22
25
40
 
GM-BHG38
3/8"
G 3/8"
7
7
14
10
22
GM-BHG12
1/2"
G 1/2"
8
7
15
16
26
GM-BHG34
3/4"
G 3/4"
9
8
17
20
33
GM-BHG10
1"
G 1"
12
10
22
25
40
NPT Thread Brass Oil Sight Glass
Hexagon Brass Sight glass (NPT Thread)
Item No.
Size(mm)
A(mm)
B(mm)
C(mm)
D(mm)
E(mm)
SW(mm)
Max Mpa
Temperature
GM-BN38
3/8"
NPT 3/8"
16
11
27
11
19
2MPa
Below Zero 30 to 120 Centigrade
GM-BN12
1/2"
NPT 1/2"
16.5
11.5
28
13
24
GM-BN34
3/4"
NPT 3/4"
17
12
29
19
28
GM-BN10
1"
NPT 1"
20
12
32
25
35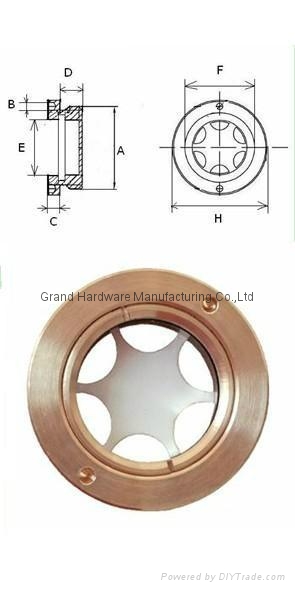 Round Oil Sight Glass
Brass Oil Sight Glass With Relfector
Item No.
Size
A(mm)
B(mm)
C(mm)
D(mm)
E(mm)
F(mm)
H(mm)
Max MPa/Temperateru
GM-BRM16
M16
M16x1.5
2.6
4
8
9
15
22
2MPa / Below Zero 30 to 120 Centigrade
GM-BRM18
M18
M18x1.5
2.6
4
8
9
15
22
GM-BRM20
M20
M20x1.5
2.6
4
8
11.5
17.5
26
GM-BRM22
M22
M22x1.5
2.6
4
8
11.5
17.5
26
GM-BRM24
M24
M24x1.5
2.6
4
8
16
22
30
GM-BRM26
M26
M26x1.5
2.6
4
8
16
22
32
GM-BRM27
M27
M27x1.5
2.6
4
8
16
22
32
GM-BRM30
M30
M30x1.5
2.6
4.5
8.5
20
26
36
GM-BRM30D
M30
M30x2
2.6
4.5
8.5
20
26
36
GM-BRM33
M33
M33x1.5
2.6
4.5
9
22
28
38
GM-BRM33D
M33
M33x2
2.6
4.5
9
22
28
38
GM-BRM35
M35
M35x1.5
2.6
4.5
9
25
31
42
GM-BRM36
M36
M36x1.5
2.6
4.5
9
25
31
42
The glass can make red marking.The reflector can paint white
GM-BRM42
M42
M42x1.5
3.2
4.5
10
28
34
48
GM-BRM48
M48
M48x1.5
3.2
5
11
33
39
55
GM-BRM60
M60
M60x2
4.5
5.5
11
43
49
69
 
GM-BRG38
3/8"
G 3/8"
2.6
4
8
9
15
22
GM-BRG12
1/2"
G 1/2"
2.6
4
8
11.5
17.5
26
GM-BRG34
3/4"
G 3/4"
2.6
4
8
16
22
32
GM-BRG100
1"
G 1"
2.6
4.5
9
22
28
38
GM-BRG114
1 1/4"
G 1 1/4"
3.2
4.5
10
28
36
48
GM-BRG112
1 1/2"
G 1 1/2"
3.2
5
11
33
39
55
GM-BRG200
2"
G 2"
4.5
5.5
11
43
49
69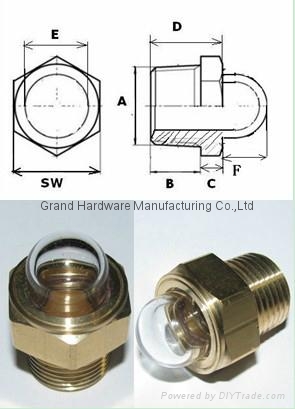 Domed Head Oil Sight Glass
Domed Head Hexagon Oil Sight Glass
Item No.
Size(mm)
A(mm)
B(mm)
C(mm)
D(mm)
E(mm)
F(mm)
SW(mm)
Temperature
GM-BN12
1/2"
NPT 1/2"
17
12
28
 
15
 
 
GM-HDN34
3/4"
NPT 3/4"
17
12
29
26
15
35
GM-HDN10
1"
NPT 1"
20
12
32
26
15
35
GM-HDG12
1/2"
G 1/2"
9
8
17
 
15
 
GM-HDG34
3/4"
G 3/4"
9
9
18
26
15
35
GM-HDG10
1"
G 1"
11
11
22
26
15
38
GM-HDM27
M27
M27x1.5
9
9
18
26
15
35
GM-HDM33
M33
M33x1.5
11
11
22
26
15
38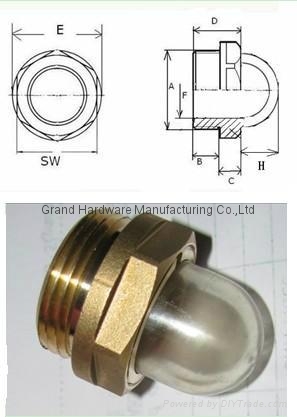 Domed Shaped Oil Sight Glass
Domed Shaped Oil Sight Glass
Item No.
H(mm)
A(mm)
B(mm)
C(mm)
D(mm)
E(mm)
F(mm)
SW(mm)
Temperature
GM-DRN12
 
G 1/2"
9
8
17
 
 
 
 
GM-DRN34
15
G 3/4"
9
9
18
38
19
34
GM-DRN10
15
G 1"
11
11
22
38
26
34
GM-DRM27
15
M27x1.5
9
9
18
38
19
34
GM-DRM33
15
M33x1.5
11
11
22
38
26
34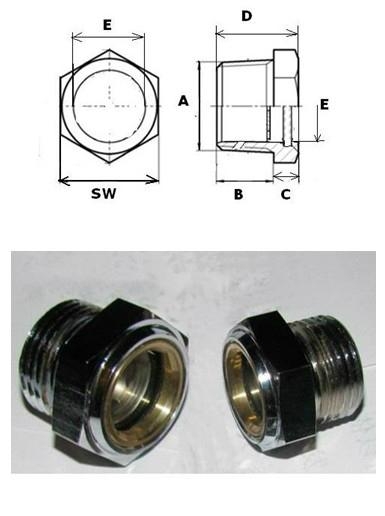 NPT Thread Steel Oil Sight Glass
Plated Hexagon steel Sight glass (NPT Thread)
Item No.
Size
A(mm)
B(mm)
C(mm)
D(mm)
E(mm)
SW(mm)
Max Mpa
Temperature
GM-SN38
3/8"
NPT 3/8"
16
11
27
11
19
1MPa
Below Zero 30 to 120 Centigrade
GM-SN12
1/2"
NPT 1/2"
16.5
11.5
28
13
24
GM-SN34
3/4"
NPT 3/4"
17
12
29
19
28
GM-SN10
1"
NPT 1"
20
12
32
25
35
GM-SU116
1 1/16"
1 1/16-12 UN
15
12
27
19
31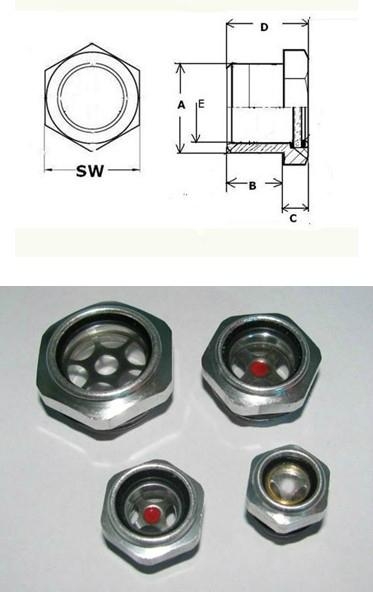 Metric & BSP Aluminum Oil Sight Glass
Aluminum hexagon sight glass
Item No.
Size
A(mm)
B(mm)
C(mm)
D(mm)
E(mm)
SW(mm)
Max Mpa
Temperature
GM-AHM10
M10
M10x1
7
7
14
5
14
1MPa
Below Zero 30 to 120 Centigrade
GM-AHM16
M16
M16x1.5
7
7
14
10
22
GM-AHM20
M20
M20x1.5
8
7
15
16
26
GM-AHM22
M22
M22x1.5
8
7
15
17
28
GM-AHM26
M26
M26x1.5
9
8
17
20
33
GM-AHM27
M27
M27x1.5
9
8
17
20
33
GM-AM30
M30
M30x1.5
10
9
19
23
36
GM-AHM33
M33
M33x1.5
12
10
22
25
40
 
GM-AHG38
3/8"
G 3/8"
7
7
14
10
22
GM-AHG12
1/2"
G 1/2"
8
7
15
16
26
GM-AHG34
3/4"
G 3/4"
9
8
17
20
33
GM-AHG10
1"
G 1"
12
10
22
25
40
| | | |
| --- | --- | --- |
| Metric thread or BSP(G thread) | | Metric thread or BSP(G thread) |
| | | |
| --- | --- | --- |
| dome sight glass | | NPT Thread |
| | | |
| --- | --- | --- |
| NPT 1/2" Domed Oil Sight Gauge | | Domed Oil Sight Gauge |
| | | |
| --- | --- | --- |
| Metric thread and BSP (G Thread) | | Metric thread and BSP (G Thread) |
| | | |
| --- | --- | --- |
| Fused glass style sight windows | | Fused glass style steel sight window |
| | | |
| --- | --- | --- |
| BSP Thread steel window sights | | NPT steel window sights |
| | | |
| --- | --- | --- |
| Flange fused sight glasses | | Flange fused sight glass |
| | | |
| --- | --- | --- |
| Plastic Domed sight glass | | Metric thread or BSP(G thread) |